Bet-At-Home Casino [Multi] Affiliate Programme
Offer ID: 9759

There are already over 4 million people worldwide using bet-at-home.com! The rules are simple: great chances to win, excellent customer service and genuine entertainment.
Payable Action: Deposit (Minimum €30 + minimum turnover of €30)
Restrictions: No Incentives, No Adult. No bonus creatives are allowed to be used for the UK market. All ads must be approved by your account manager before use.
Example Creatives
Offer Terms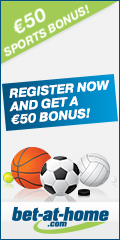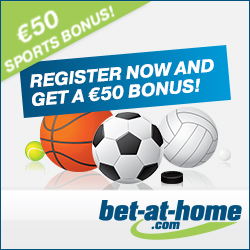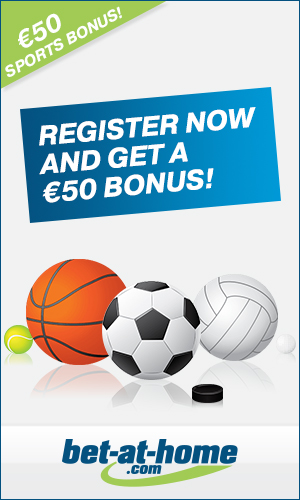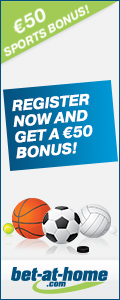 A conversion is technically a lead, but please note the commission for this offer is only valid on the deposit (including wagering terms), not the lead, therefore all conversions will track as pending until a deposited has been validated from each lead. If a lead converts on Sports rather than Casino, the payout will be amended to £50.

Terms and Conditions for Affiliates promoting Bet-At-Home: The following specific conditions of the bet-at-home.com partner program are read and applied in conjunction with the general terms and conditions of the affiliate network:

1. Obligations of the Partner

a. The partner takes full responsibility for the development, operation and maintenance of its website as well as for the entire content that is displayed on its website. In particular, the partner ensures that its website does not promote any unlawful statements or activities or display any violence-glorifying or pornographic images or content that discriminates against gender, ethnicity, religion, nationality, disability, age or sexual orientation.

b. The partner will recommend bet-at-home.com to potential players at its own expense and expenditure. The partner program is solely responsible for the distribution, content and the nature of its marketing activities. All marketing activities must be operated professionally, properly and lawfully in accordance with the applicable laws as well as this agreement.
c. The partner may only use material associated with bet-at-home.com that was created by itself or adapted or combined with the express prior written consent of WOWTRK. This also applies for advertising with means other than a website, such as E-Mail or SMS marketing. bet-at-home.com accepts no responsibility for advertising material that was changed without prior consent. The partner is solely responsible for any copyright infringement, damages or liability claims from third parties caused by the use of unauthorized materials, and indemnifies and holds bet-at-home.com harmless from any such claims.

d. bet-at-home.com reserves the right to withhold all commission payments which the partner would otherwise have been entitled to if bet-at-home.com determines at its sole discretion that (i) the partner sends spam e-mails or the service of bet-at-home.com is promoted in any other unauthorized form or (ii) the partner registers as players or makes deposits directly or indirectly to player accounts through their tracking links for its own personal benefit and/or the benefit of third parties, or in any other way attempted to artificially increase the commission payable to defraud. Violation of this provision is deemed fraud.

e. The partners ensures that it will use promotional materials permissible according to the relevant laws of the respective market. Any fines or penalties for breaching this rule are the responsibility of the partner.

f. "Pop-up banners" or "Pop-under banners" may only be used by the partner with the express prior written consent of bet-at-home.com. bet-at-home.com reserves the right to limit or withhold the commission or completely cease advertising campaigns when advertising as aforementioned has been used.

g. For any advertising activities directed at residents of the United Kingdom, the partner is obliged to comply with the advertising guidelines applicable to the form and media that is used to advertise the gambling services. In case the partner violates aforementioned contract clause, an adequate contractual penalty will be due. Furthermore, bet-at-home.com has the right to an extraordinary termination of the contract. The partner warrants to provide such information that is reasonably requested to bet-at-home.com in order to enable bet-at-home.com to comply with information reporting and other obligations towards the United Kingdom Gambling Commission.



2. Marketing Material

a. WOWTRK will provide the partner with a selection of advertising materials (e.g. banners, texts, graphics and logos). Implementing one or more of these advertising materials means that website users can have direct access to the bet-at-home.com website by clicking on the respective symbols . bet-at-home.com reserves the right to change, limit or provide new advertising material at any time. The partner may not modify or process the links and banner codes that have been provided by bet-at-home.com in any other way.
b. The copyright for the design of the links that are provided as part of the partner programs, as well as any other information that is available through bet-at-home.com's website, remains exclusively with bet-at-home.com.



4. Intellectual Property, Naming and Trademark Rights

a. The partner may not design its website in a way that evokes confusion with the bet-at-home.com website or creates the impression that the partner is part of the bet-at-home.com group.

b. The partner may not use bet-at-home.com or other terms, trademarks or intellectual property rights that are vested in bet-at-home.com other than through the installation of the provided marketing materials on its website. In particular, the partner is obliged to abstain from using the bet-at-home.com logo or those logos which are confusingly similar to that of bet-at-home.com.

c. The partner is obliged to pay attention to the trademarks and name rights of bet-at-home.com at any time when carrying out search engine campaigns. The partner agrees not to use search terms (keywords) or mistyped domains that are similar to bet-at-home.com or other related trademarks that are the property of bet-at-home.com. Furthermore, the partner acknowledges that cookie spreading is strictly prohibited.